How Reseller Administrator Differs from Root Administrator
If a company is interested in becoming a re-seller for a service provider, it can request for a re-seller account. The administrator who requests for a re-seller account on behalf of company is known as re-seller administrator.
Assigning a re-seller helps service providers enhance the business opportunities and widen the customer base. The service provider administrator who attends to the re-seller requests, initiates the discussion with the prospective re-seller administrators and their companies, and assigns the re-seller accounts for the re-seller administrators are known as root administrators.
The root administrator has been in charge of the entire domains, whereas, the re-seller administrator is in charge of the sub-domain (re-seller domain) that the root administrator assigns to the re-seller account.
The tasks involved in configuring and using the re-seller feature are shared between the root administrator and the re-seller administrator. The following diagrams explain these task flows:
Registering Re-sellers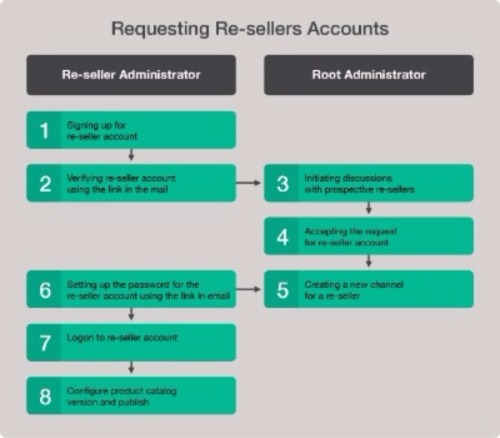 Billing and Sharing Profit