Adobe Patching - Changes in Radia
Overview:
Adobe has decommissioned the existing Flash player download pages to ensure that only registered users have access to the distribution binaries. This document briefly explains the steps for Adobe integration with Radia Patch Manager, and using the official link for downloading Adobe Flash Player binaries obtained after registering with Adobe.
Pre-requisites:
Refer to document "Registration for Adobe updates download – Customer Advisory" to register and obtain the download URL.
Acquisition procedure: 
After procuring the URLs, log into Adobe and download the adobe updates for both active and plugin manually.
The current file names are given below:
install_flash_player_24_active_x.exe
install_flash_player_24_plugin.exe
Please note that the file names will vary every time Adobe publishes a new update.

Steps to be followed on Radia Core Server:
Create a folder named 'AdobeFlashBinaries' under <InstallDir>/Media.
Place the downloaded Flash Player binaries in this folder.
Launch the URL "http://localhost:3466/media/AdobeFlashBinaries" in a browser on the Core server.
Confirm that you see the following files :
          install_flash_player_24_active_x.exe
          install_flash_player_24_plugin.exe
Note: Ensure that "media" in the above URL is all lowercase, irrespective of how it is in the folder
Update the Catalog file:
Run any acquisition, to download the latest content from Accelerite Content Network (ACN). This will download the latest adobecat.xml file.
Create a folder named "applicationpatch" under <InstallDir>\Data\PatchManager\patch\custom folder (if it does not exist)
Copy the adobe catalog file "adobecat.xml" from <InstallDir>\Data\PatchManager\patch\novadigm\applicationpatch to <InstallDir>\Data\PatchManager\patch\custom\applicationpatch folder
Open "<InstallDir>\Data\PatchManager\patch\custom\applicationpatch\adobecat.xml" in text editor.
Search for "Adobe Flash Player 24" and ensure attribute "PatchURL" contains localhost as shown in the screenshot below: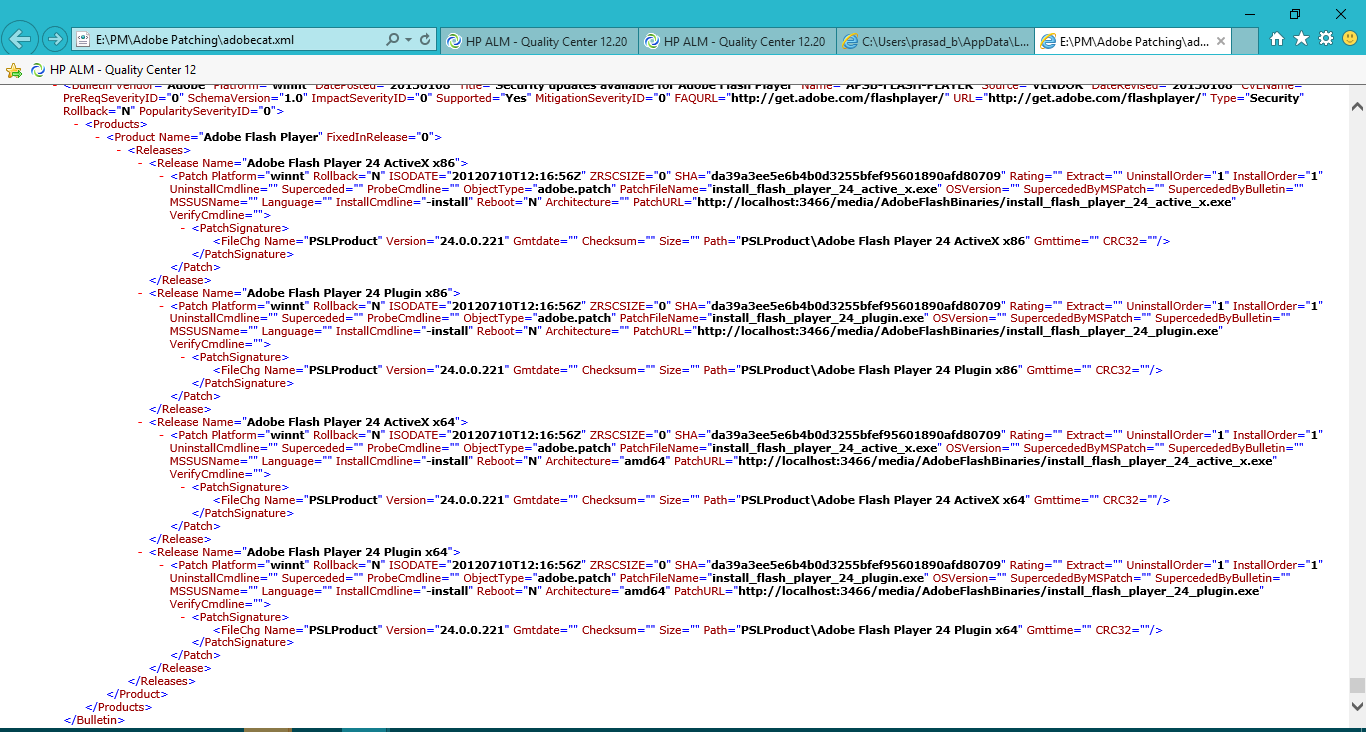 Note: If you are using Patch Gateway model and binaries are downloaded and cached on the Core localhost should work. However, if Patch Gateway is configured to download the binaries via satellites or if the Patch gateway server is a standalone server, change the "PatchURL" attribute from "localhost" to Core server IP.
6. Save the xml file.
Patch Acquisition:
Now run Adobe patch acquisition and follow the standard Radia policy entitlement flow.
Catalog file clean-up:
Once the acquisition and deployment of Adobe Flash binaries is completed, delete the customized abodecat.xml file present in <InstallDir>\Data\PatchManager\patch\custom\ applicationpatch folder. This will ensure the latest abodecat.xml from Accelerite Content Network is used during subsequent acquisitions.