Customer Registration
Self-service support at your fingers
The Accelerite Support Portal is available around the clock, it provides the interactive technical support tools needed to manage your Accelerite Software, allowing your staff to quickly self-solve or log support cases electronically.
Accelerite Support Portal (ASP) offers a vast array of Accelerite Software knowledge, bringing comprehensive support resources to your fingertips. Additionally, ASP provides online incident reporting to an unlimited number of users. It enables you to:
Search Accelerite technical knowledge base for known problems, technical documents, manuals, and patches
Log, track, and update cases electronically
Register for email notifications for many Accelerite Software product updates and patches
Electronically download the latest software patches for Accelerite Software products
Visit ASP – https://support.accelerite.com
Registering on the Accelerite Support Portal
Customer registration is simple. Customer's should navigate to https://support.accelerite.com and click on the 'Login / Register' link in the top right hand corner of the site.

The "Login/ Register" link will open an overlay screen as shown below. This overlay screen will have "Register" tab.

By clicking on the 'Register' tab on overlay screen will appear requesting the registering customer to provide some basic details. It is important that the customers use their corporate email address to ensure that their account is linked with the correct organization.
Clicking the registration link will generate an email that will contain a link to confirm the identity of the customer and validate that the email address provided was correct. By clicking the link in the email the customer has completed the registration process.
Below is a snapshot of verification email received by customer.

After verification the user can login to the Accelerite Support Portal (ASP). Any registration issues can be escalated to Accelerite Support by emailing support@accelerite.com .
Managing Your User Profile
After login a user will be redirected to the home page. User will be able to access menu item as seen in below screen.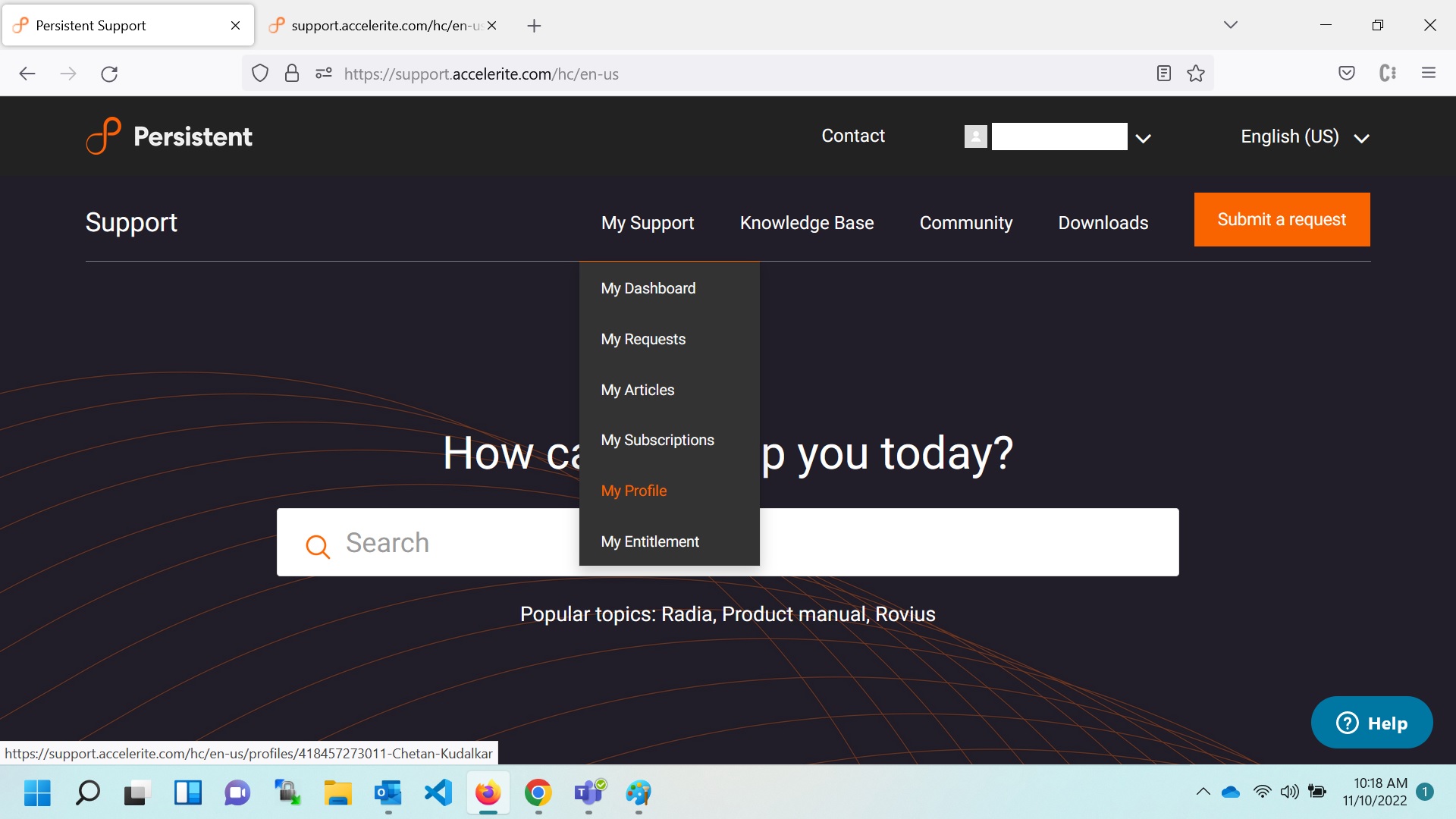 When the user click on "My Support" menu the above screen is shown.
My Profile - allows the user to change their user name, user profile image, user phone no, , as shown in the below scrubbed screenshot.

User can also user the top right menu to access this screen. changing password link is displayed on this screen.